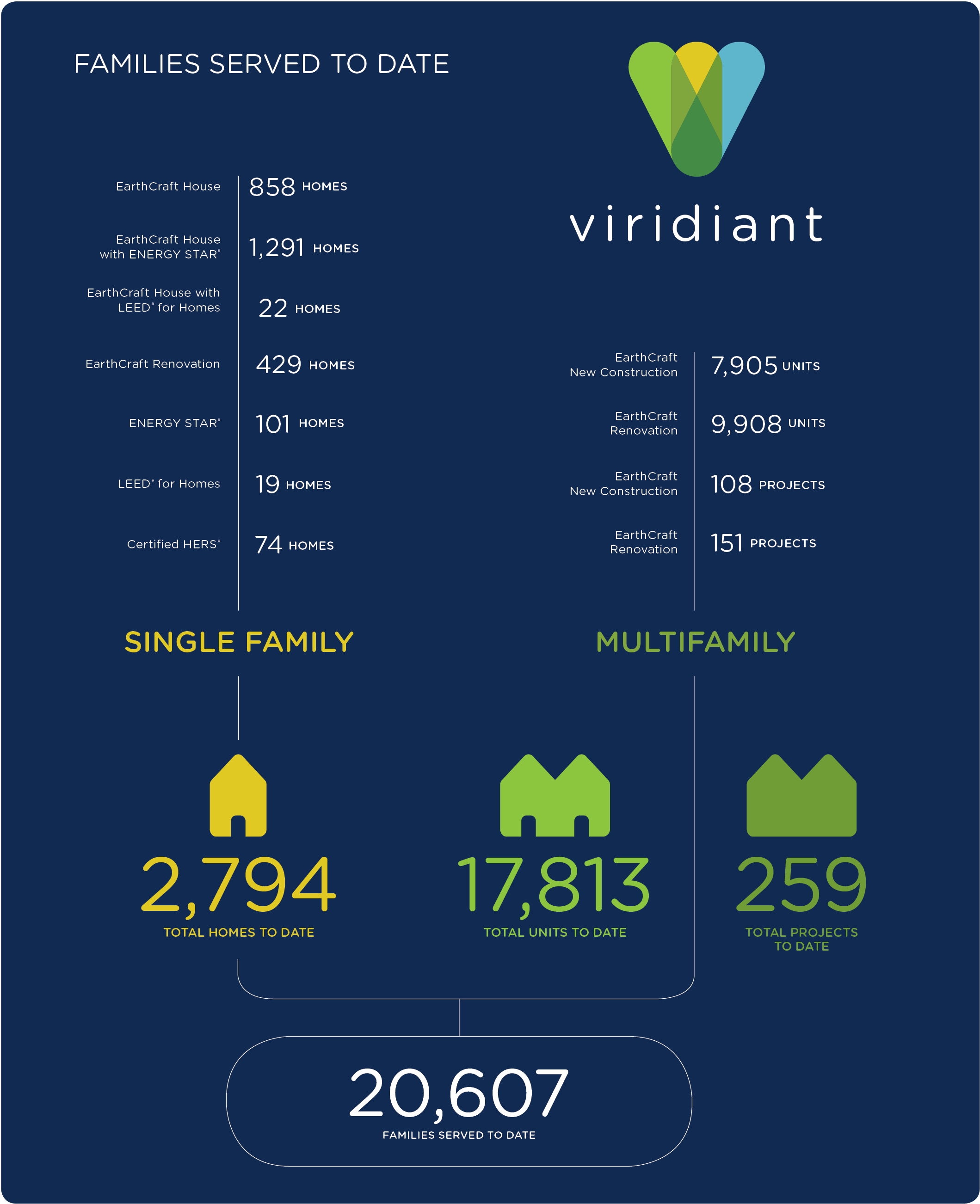 TOP Q1 2017 EARTHCRAFT CERTIFIED HOMES BY CERTIFICATION LEVEL & ENERGY EFFICIENCY
Bench Mark Builders – HERS 30, EarthCraft certified
Green Valley Builders – HERS 44, EarthCraft and ENERGY STAR certified
Green Mountain Construction – HERS 47, EarthCraft certified
---
upcoming events
EARTHCRAFT BUILDING PROFESSIONAL TRAINING
Wednesday, May 17th, 9:00 AM – 4:00 PM
Fairlington Community Center, Arlington, VA
This 7-hour builder training provides a comprehensive overview of best practices for sustainable construction and design as well as explores how the EarthCraft program can help you get started in the green building sector.
​
For more information and to register, click below.
REGISTER
–
BLUEPRINT FOR THE FUTURE DESIGN COMPETITION
Phase I Submissions Due May 26th
Fairlington Community Center, Arlington, VA
The deadline for Virginia Department of Housing and Community Development's Blueprint for the Future Design Competition has been extended to May 26! Register at the link below, then submit a short narrative, a site plan, and two sets of scaled drawings. The competition is open to all Virginians, including students, amateurs or professionals, and individuals or teams. The winning design will receive a cash prize and be announced and displayed at the Governor's Housing Conference!MORE DETAILS
LECTURE: EARTHCRAFT HOUSE SITE VISIT
Thursday, June 15th, 3:00 – 4:30 PM followed by our Summer Social
This lecture, held in conjunction with the Home Builders Association of Richmond's EarthCraft Builders Council, will take place at a Richmond-area EarthCraft home. It will be followed by our yearly Summer Social! More details and registration coming soon.

---
sustainable leadership awards
CELEBRATING LEADERS IN ADVANCING SUSTAINABLE HOUSING
Regional leaders in the advancement of sustainable design and construction were recently honored as winners of Viridiant's Sustainable Leadership Awards. The event, which took place on April 20th, drew over 150 individuals representing home builders, non-profit and for-profit housing providers and developers, program sponsors, homeowners, affordable housing advocates, and those interested in creating green housing opportunities in Virginia. Attendees also enjoyed a housing policy and research panel with Art Bowen of Virginia Hosuing Development Authority, Andrew McCoy of Virginia Center for Housing Research at Virginia Tech, and Angela Navarro of the Office of Governor McAuliffe, moderated by Bob Adams of HDAdvisors. Pre-awards educational sessions also took place with Michael Hubbard of Dominion Virginia Power, Andrew McCoy of Virginia Center for Housing Research at Virginia Tech, and Sean Evensen- Shanley of Viridiant.
To learn more about this year's winners, and help us celebrate their achievements, please click below.
LEARN MORE
---
earth day 5K race without a trace
CELEBRATING SUSTAINABILITY WITH COMMUNITY ENGAGEMENT
On Earth Day 2017, over 100 people came out for the 5th Annual Richmond Earth Day 5K Race Without a Trace, presented by Sigora Solar, showing off the best the city has to offer. Folks ran, walked, and strolled, many with their kids and furry friends, down the newly completed Virginia Capital Trail and saw the beauty of the James River and its downtown surroundings. Participants also learned easy ways to help the environment along the course and finished just half a mile from RVA Earth Day. Local plants and local gift cards were presented to winners in categories like leaders of the pack, best dressed, best dramatic finish and more. Electric vehicles were on hand to shuttle runners to the festival after the race. To learn more or see photos and race results, please click below.
LEARN MORE 
---
Did you miss our recent lectures?
FREE BULLETINS SHARED ON LECTURE TOPICS
In April, Viridiant hosted three educational sessions – two in advance of our Sustainable Leadership Awards and one during the awards presentation. We have prepared bulletins to summarize what was discussed during each of these lectures/educational sessions.
DOWNLOAD BULLETIN(S)
---
green climate corp fellow pilot program
THE LITTLE TEN OF SOUTHWEST VA ONE OF 12 AWARDED NATIONAL FELLOWSHIP
On February 8, 2017, the U.S. Department of Housing and Urban Development (HUD) awarded The Little Ten Housing Authorities of Southwest Virginia, Inc. (The Little Ten) one of twelve spots nationwide in the Affordable Housing Utility Benchmarking Fellowship program. Through a competitive grant process, The Little Ten will receive a Climate Corp fellow during Summer 2017 to provide assessment of actual utility consumption for the portfolios of ten housing authorities.
The Little Ten, representing ten authorities in southwestern, rural Virginia, will leverage a Climate Corps fellow to identify a sample of the housing stock throughout the region, train authority representatives, create a benchmarking plan, initiate benchmarking, and with support from non-profit partner, Viridiant, provide options and return on investment (ROI) for utility improvement. This investment would lower residents' utilities, provide more accurate utility allowances, and help housing authorities to strategically reinvest resources. Viridiant has committed to assist the fellow and housing authorities in interpreting benchmarking results, prioritizing opportunities to reduce utility cost through management, education, and resident operation and energy efficiency improvements and determining anticipated ROI.
---
lectures: help steer the conversation
We are constantly looking for opportunities to improve our lecture series overall, and as we plan the remainder of the 2017 series, we're seeking your input on lecture topics. Please provide your thoughts below. You don't need to have attended a lecture in the past to give us your feedback.
---
Viridiant, a 501c3 non-profit, prides itself on offering superior quality, affordable programs that can suit the needs of any builder or developer who shows a commitment to high performance home building. With nine full time employees in our Richmond office and technical advisors around the state, we strive to remove any financial barriers to green building by delivering our programs at a fraction of the cost of similar programs.
Residential buildings make up almost 27% of the energy consumption in Virginia. With your support, we can touch more houses, making a significant impact not only on the state's energy use but also on the lives of the residents who will enjoy comfortable, healthy, and affordable homes.
Please consider making a donation to Viridiant today.
DONATE
---
partners

sponsors